Piano Lessons
-
Here are recommendations for some good on-line piano lessons and piano training info
as well as info on piano lesson computer software & iPad music/piano apps that may be useful for you and/or your family. There are also links to blog posts I have written about playing piano along with music lessons and why they are so important for kids & adults of all ages!
Click on the links below for more information...
Tim Topham - International Piano Teacher Advisor student and Instructor - Tim
has more than 25 years of experience in general & music education, having taught thousands of students in the United Kingdom and many states of Australia in subjects such as as music, Phys Ed, math and IT.
Through his blog and podcast at
timtopham.com
, he regularly inspires thousands teachers worldwide to become better educators for their students and for themselves. Tim is a friend of mine, he loves acoustic & digital pianos, and is a great resource for all things connected to piano education. No matter where in the world that you live you should visit Tim's site.
Hoffman Academy
- excellent
Free
on-line video piano lesson series given by well known and experienced piano instructor Joseph Hoffman - Joseph is patient and knowledgeable and is also a friend of mine. He recommends both acoustic and digital pianos to his thousands of students worldwide and is an excellent resource for you and/or your family to get a high quality comprehensive piano training education regardless of what playing skill level you may be at.
He offers a very good FREE piano lesson course by way of a video series he personally teaches along with a Premium lesson course for a fee per month. With regular local 30 minute piano lessons going for an average of about $25 each these days ($100 per month), Joseph's program is definitely is
a great deal
. Check out his web site at the following link:
Hoffman Academy
Piano For All
- A comprehensive and relatively inexpensive piano training program on-line that may be a very good option for those people who want to play piano. Check it out at the following link:
https://pianoforall.com/
Piano Instruction by Dan Delany
- Pianoinstruction.com is a great lesson site created and taught by well known professional jazz pianist and teacher, Dan Delany. Dan's on-line instruction serves all piano skill levels and types of music and is a comprehensive guide to instruction in general, and especially
jazz piano instruction
in ways that few other piano teachers are capable of doing.
I personally know Dan Delany and he has gained a huge worldwide following because of his depth of piano instruction knowledge and ability to teach it. He has a great web site so I recommend you check it out to see if his curriculum and teaching instruction might fit your musical goals and piano playing needs.
Pianoinstruction.com
Piano Lessons by Joe Raciti
- Joe is a well trained musician and fun teacher to take piano lessons from. He is a big proponent of digital pianos and uses them regularly to compose and teach on.
https://joeraciti.com/
eMedia Piano and Keyboard Method
- Interactive Computer CD ROM lesson program - great for people with digital pianos equipped USB/MIDI output. I recommend this course for people with laptop computers who want to learn to play piano in a fun, interactive way with many built-in lessons in and who don't have the time (or money) to take lessons locally or on-line. Click on picture for info and extra discount: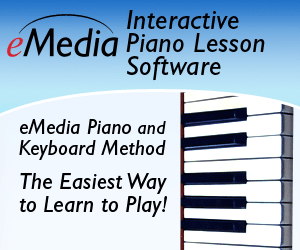 Skoove: The Ultimate Guide to Piano Playing
- Skoove is a newer company that has developed an iOS app so that you can learn to play piano, especially if your are a beginner, when an iPad or iPhone is connected to your digital piano by USB connectivity or you can even use it with a regular acoustic piano using the microphone in your tablet or iPhone device.
This company explains the basics on their web site and the instructional lesson app is very effective. There is a cost to it as with most worthwhile things, but it is far less money than traditional lessons and you can do it on your own time. Check it out at the links provided.
The Ultimate Guide to Playing Piano
Skoove: Piano Lessons app
iPad Piano learning Apps
- How they help kids & adults learn piano better and make the practice and playing experience even more fun!
iPad Piano Apps and what you should know
Blog Post - Music - A language like no other!